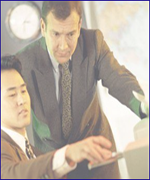 Modularized Security Services
Instead of presenting a one size fits all security solution that tries to be the end all to be all. We believe that security has to work within your business balancing productivity, personnel satisfaction, and security in modular format. This allows a practice to pick and chose which security measures best fit their business practices.
Our security experts offer guidance and advice regarding the various packages available to a practice to ensure HIPAA/HITECH compliant records security and policies. There is a minimum level that every practice should have. It is our job to make sure that is met and any additional measures make both business and financial sense.
We provide a practice with the most cost effective best practices security solution available. We also continue to work with those practices as the legal, threat, and solutions environments change.
Our services include:
Perimeter Security to and from the Internet
Internal Server and Workstation Security
Hardening of all Workstations and Servers
Anti virus and mal ware systems
Secure Wireless Access System
Security testing
Email security
Workstation and Server Monitoring
Documentation and Policy formulation
Cloud based and local system based EHR systems
Mobile Device monitoring and security
We earn Your Trust.
Partners