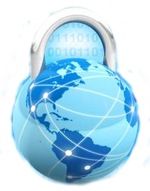 Bringing affordable best practices in systems security and HIPPA/HITECH compliance to small and medium sized offices. We work with youto maintain a compliant and aggressive security posture.
One incident involving a breach of records containing Protected Health Information (PHI) can destroy a life time of work. Practices are under increasing pressure to comply with a changing complexity of Federal, State, and Local regulations relating to the protection and the production of records containing PPI. Regulatory enforcement actions, civil suits, and notification requirements can quickly destroy even the most robust small or medium sized practice. Our job is to work with you to prevent that one incident..
Our Services for HIPPA/HITECH PHI Security:
HIPAA Training both Initial and Recurrent available on line
Physical Security of Systems and paper records.
Monitored Systems Security (internal and external).
Managed Anti-virus and Malware Protection.
BYOD & Mobile Systems Protection.
Secure Wireless Networks.
Legal Documentation and Policies for Everything.
Security for records & systems that makes sense and matches the way a practice does business. Fully documented to prove the steps taken for security on systems. That is what HIPPA/HITECH wants and that is what we will provide for you in a cost effective and easy to manage package.
We watch, so you don't have to.
Partners