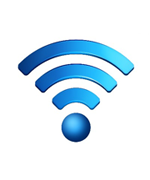 Security for Wireless Networks and Internet Access
Centrally Managed from the Cloud
Award-winning Cloud Controller provides powerful and intuitive centralized management, while eliminating the cost and complexity of traditional on-site wireless controllers. Cloud Controller seamlessly manages campus-wide WiFi deployments and distributed multi-site networks with zero-touch access point provisioning, network-wide visibility and control, cloud-based RF optimization, seamless firmware updates and more. With an intuitive browser-based user interface, WLANs configure in minutes – not days or weeks
Control Applications, Users, and Devices
The only wireless LAN to include Layer 7 fingerprinting and application QoS. Identify hundreds of applications, from business apps to BitTorrent and YouTube. Prioritize critical apps like VoIP, and limit or block wasteful bandwidth consumption such as P2P file sharing. Apply policies by device type, automatically assigning VLAN tags, traffic shaping rules, bandwidth limits, and firewall policies to iPads and other device types. And user fingerprinting with Google-like search allows administrators to easily identify and control individual users, iPads, Androids, and other devices.
Guest WiFi
Offer secure, easy to manage guest access out-of-the-box; without extra appliances, licenses, or complex VLAN configurations. Built-in firewall and DHCP server provide a complete guest WiFi solution, enabling secure, Internet-only access that protects your LAN and other clients from virus or information leaks. Provide cloud-hosted, customizable splash pages, bandwidth limits, on-the-fly guest logins, and even content filtering, allowing you to customize your guest experience.
Enterprise Security
Provide complete out-of-the-box enterprise class security. Segment wireless users, applications, and devices; secure your network from attacks; and enforce the right policies for each class of users. Built-in stateful policy firewall, 802.1X/RADIUS support, and native Active Directory integration deliver fine-grained access control, while the Guest Access Firewall provides secure, Internet-only guest WiFi in just one click. With built-in features like Network Access Control (NAC) and Wireless Intrusion Detection and Prevention (WIDS/WIPS), Enable secure wireless environments without complex setup or systems integration. WLANs are fully HIPAA and PCI compliant.
High Capacity 802.11n
802.11n APs provide high capacity wireless in dense, demanding environments. APs are custom-designed for cloud management. Built with enhanced CPU and memory capabilities, APs deliver rich services including Layer 7 Application QoS and NAC at the network edge. Industry-leading 3-stream 802.11n MIMO delivers radio rates of up to 900 Mbps, while cloud-based RF optimization with spectrum analysis ensures that APs are automatically tuned for highest performance.
Teleworker VPN
Teleworker VPN solution creates a secure IPsec tunnel from any Internet-connected wireless access point to your corporate network, providing secure remote access to IP PBX systems, file shares, and internal applications. Teleworker VPN is available on every 802.11n AP, at no extra cost. Remote APs connect securely and automatically to an easy-to-deploy VMWare-based virtual concentrator at HQ, while split-tunneling only routes internal traffic over the VPN, improving performance and saving bandwidth.
High Performance Mesh Routing
Mesh networking the ability for APs not wired into the LAN to act as repeaters – is included in every AP. Mesh allows for two powerful use cases: extending coverage to hard to wire areas, and providing a self-healing network that is resilient to cable and switch failures. High performance mesh routing, with behind-the-scene technologies such as multi-radio routing and per-flow analysis that makes the mesh faster and more reliable.
Device Management
powerful device management tools to control the clients on your network. Centrally manage iOS devices, Windows PCs, and Macs. Set security policies for the iPads, iPhones, and iPods owned by your organization, and centrally manage the applications installed on them, pushing new apps and updates to any number of devices. Control Macs and PCs, tracking inventory, pushing software, and even troubleshooting with built-in remote desktop. Device management is fully integrated available at no additional cost.
Centrally Managed from the Cloud
Powerful and intuitive centralized management without the cost and complexity of traditional wireless controller hardware. Seamlessly manage campus-wide WiFi deployments and distributed multi-site networks with zero-touch AP provisioning, network-wide visibility and control, cloud-based RF optimization, seamless firmware updates and more – without training or dedicated staff.
High Capacity 802.11n for Dense Environments
APs are built on enterprise-class 802.11n chipsets, with custom designed antennas, extra CPU and memory resources, and hardware accelerated encryption. This hardware platform, combined with performance features including band steering and voice and video optimization, provides consistent, reliable performance even in crowded auditoriums with over 100 users per access point.
Built-In Enterprise Security and Guest Access
out of the box security that meets the needs for the Fortune 500, yet is easily configured by an IT generalist. Built-in guest access provides Internet access while protecting your LAN from viruses, worms, and unauthorized access. Active Directory integration, network segregation, and firewall rules can be configured in minutes. Advanced features include:
Application-aware (Layer 7) stateful firewall
Identity-based group policies
Intrusion detection and prevention (WIDS/WIPS)
Built-in NAC with antivirus scanning
Two factor authentication
Block Netflix, Accelerate VoIP and Secure the CEO Designed for modern, mixed use networks that support mobile devices and web-based applications. Integrated Layer 7 device fingerprinting, traffic shaping, and application firewall services provide complete visibility and control of the devices, users, and applications on your network, while powerful yet easy to configure access policies maintain security and compliance.
Control Clients with Mobile Device Management and a Client Aware Firewall
Pushes policies and applications to the devices on your network, enforcing security best practices, installing updates, and troubleshooting client issues. Configure rich policies with a device-aware firewall, assigning bandwidth controls, VLANs, and firewall rules specifically to iPads, Androids, and other mobile clients. Provides the tools for Bring Your Own Device (BYOD) networks and mobility-centric organizations.
Save up to 50% by Eliminating Hardware Controllers
Cloud-based control provides secure, reliable centralized management without the cost and complexity of traditional hardware-based WiFi controllers. Customers typically save up to 50% over traditional controller-based solutions, and even more when considering multi-site and highly available deployments (which require extra controller hardware on traditional networks, yet are available out of the box with Cloud Controller.)